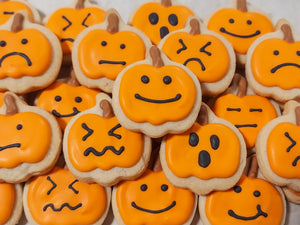 Mini Pumpkin Face Cookies (3 Dz)
Regular price $25.00 Sale
Want a cute addition to your fall events or dinners? How about a yummy treat for all of your students or teachers that doesn't break the bank? These mini pumpkin face cookies are just the answer! 
May be packaged all together, in pairs, or individually, heat-sealed for freshness. Scissors will be required to open, so we don't recommend putting these in lunch boxes unless you snip an opening first. 
Cookies are about 1.5 inches wide and will be frosted in a variety of faces. For all smiley faces, please put in notes section at checkout. Cookies are vanilla with our fan-favorite citrus royal icing!
Pick-up/delivery only, no shipping. Cookies should be ordered at least 1 week prior to your desired pick-up date. Please choose your pick-up date during checkout. We will contact you 2-3 days prior to your date to set a time for pick-up.